Finally we checked out Universal Studio Singapore!! We bought the tickets online, way weeks before..It is better if you bought the tickets online, as you don't have to queue for it, and you could make sure that it won't be sold out on the day you wanted to visit. We went there on the first of February, which was also the day they stopped giving the $5 vouchers!! Dyamn!! Oh well..but still very excited, as after around one year of it's opening, we finally got the chance to take pictures with the Penguins of Madagascar!! teehee..
That whole week Singapore had been poured by heavy rain, but the day we visited Universal, the sky was bright!! How blessed!!
So beware, this is a massive photo post!! =p
It was the week of Chinese New Year, so just in front of Universal itself, there was a giant Fortune Rabbit, as it is the new year of rabbit..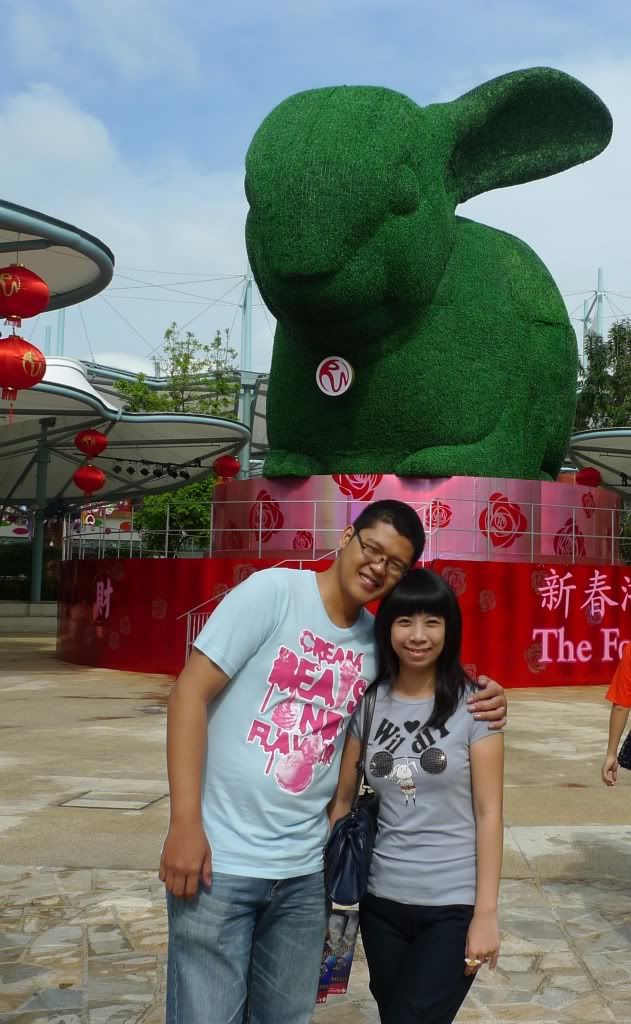 The famous Universal Studio logo that everyone must take pictures with!!!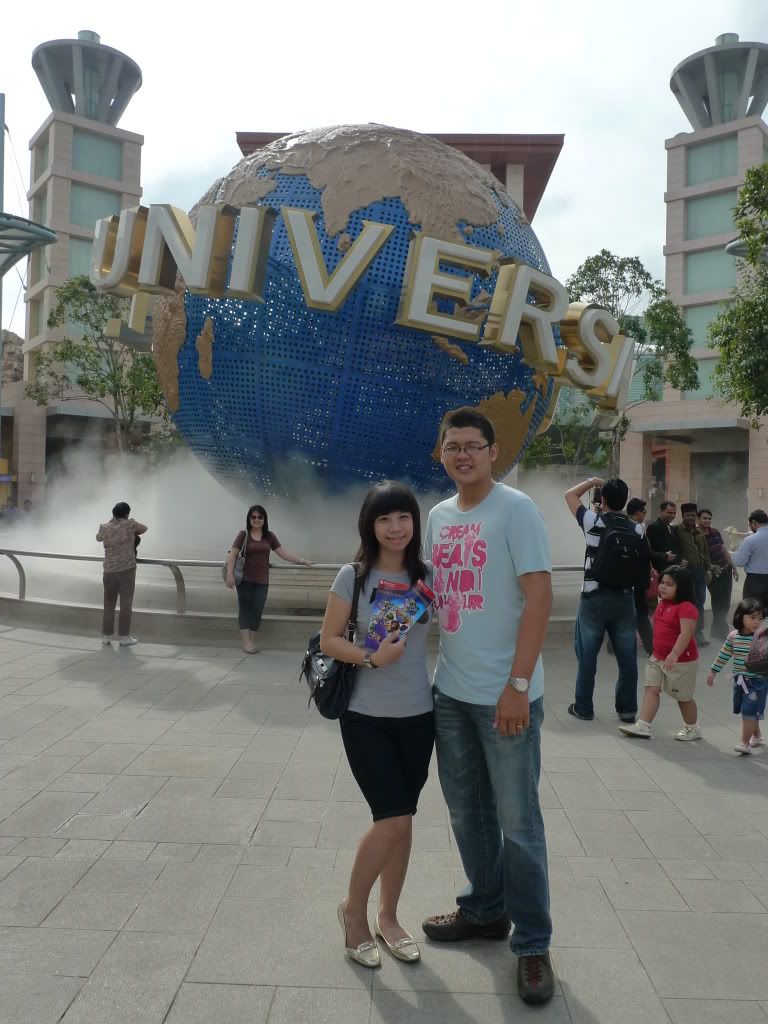 Fooled around inside the many gift shops..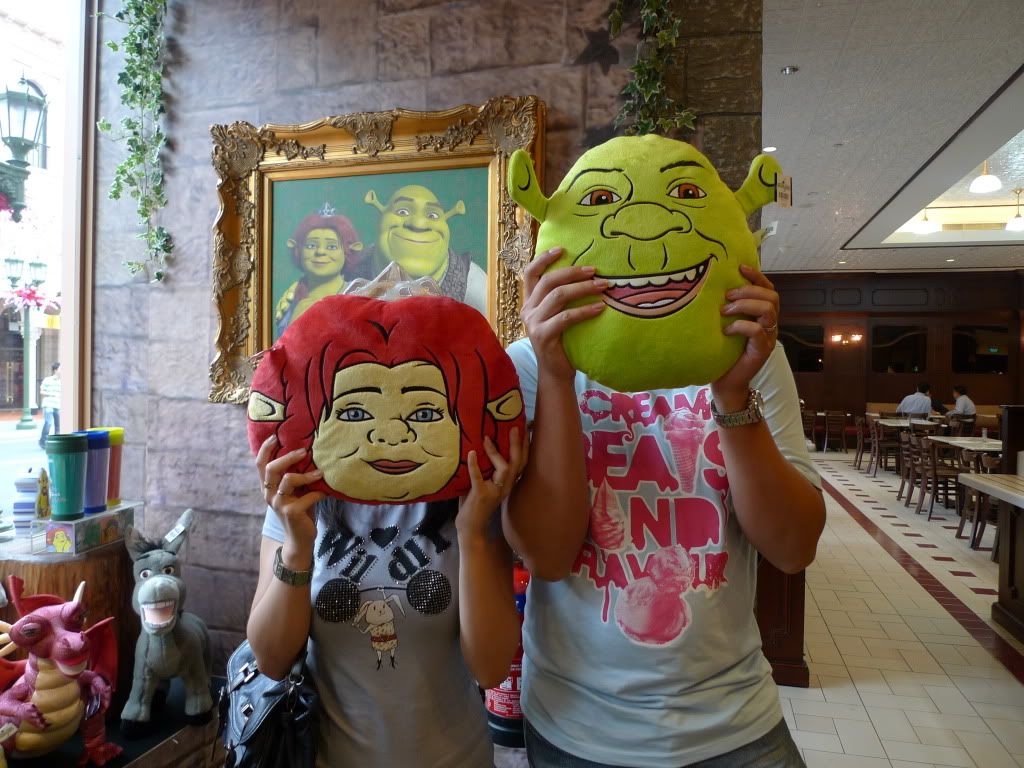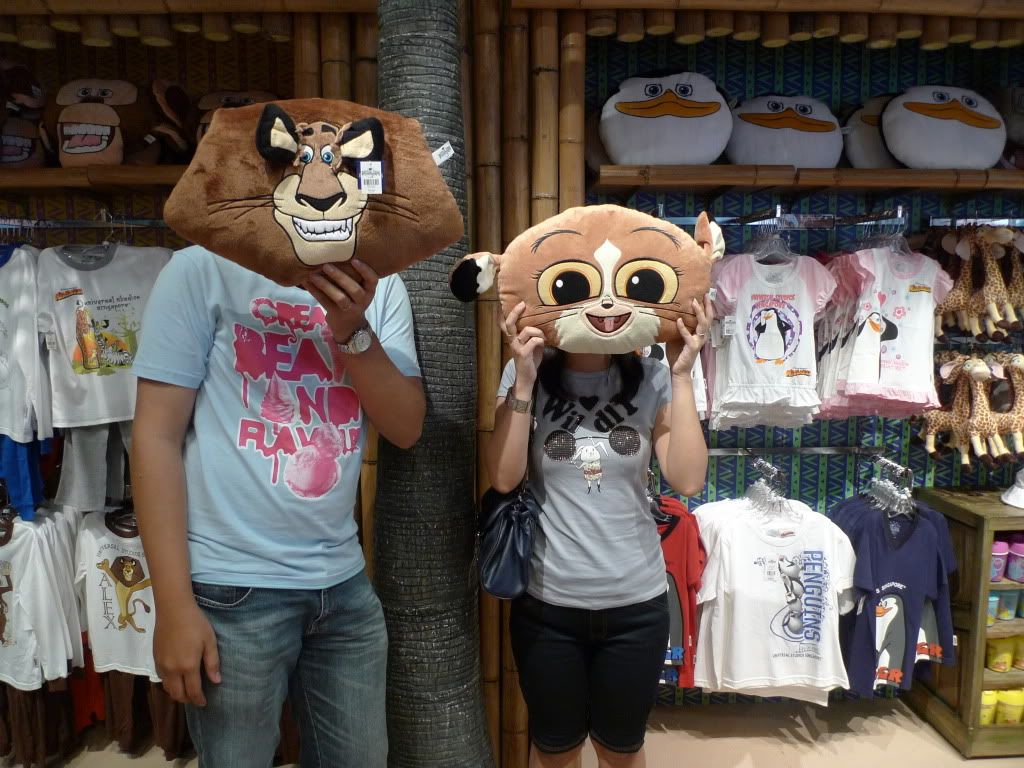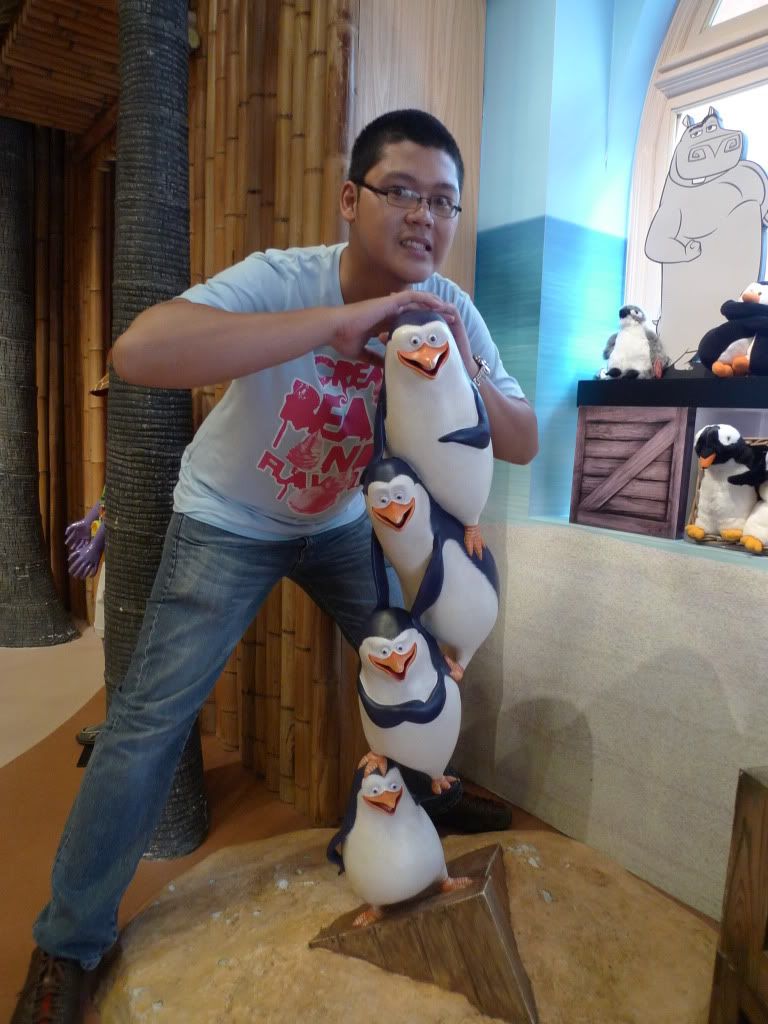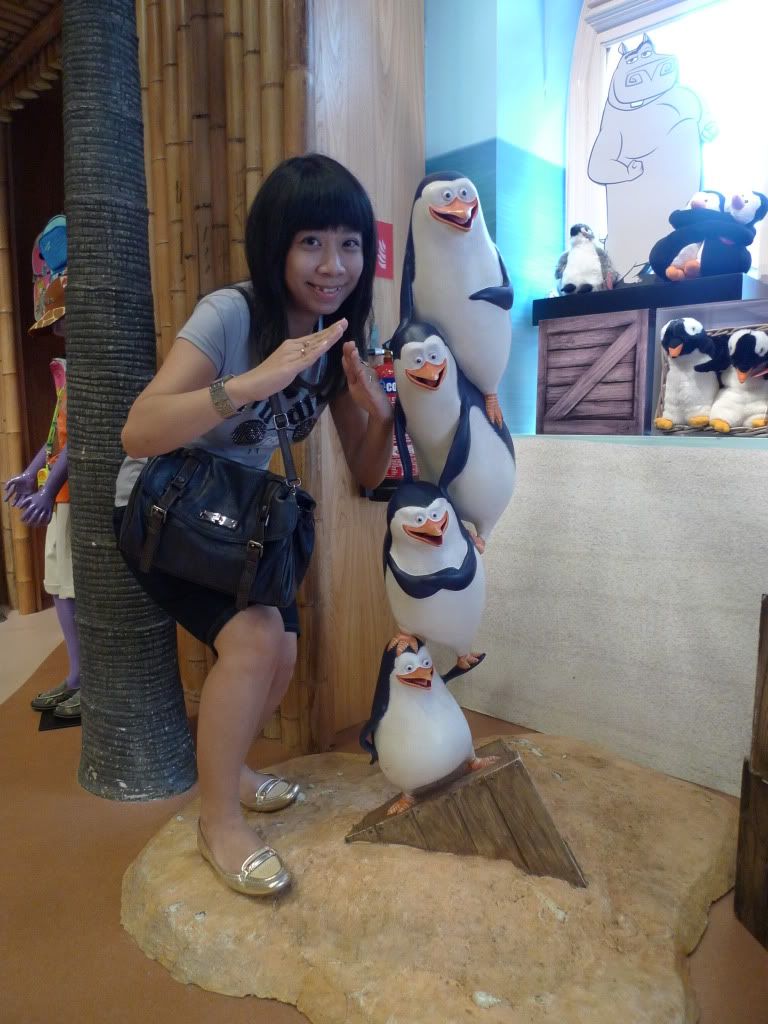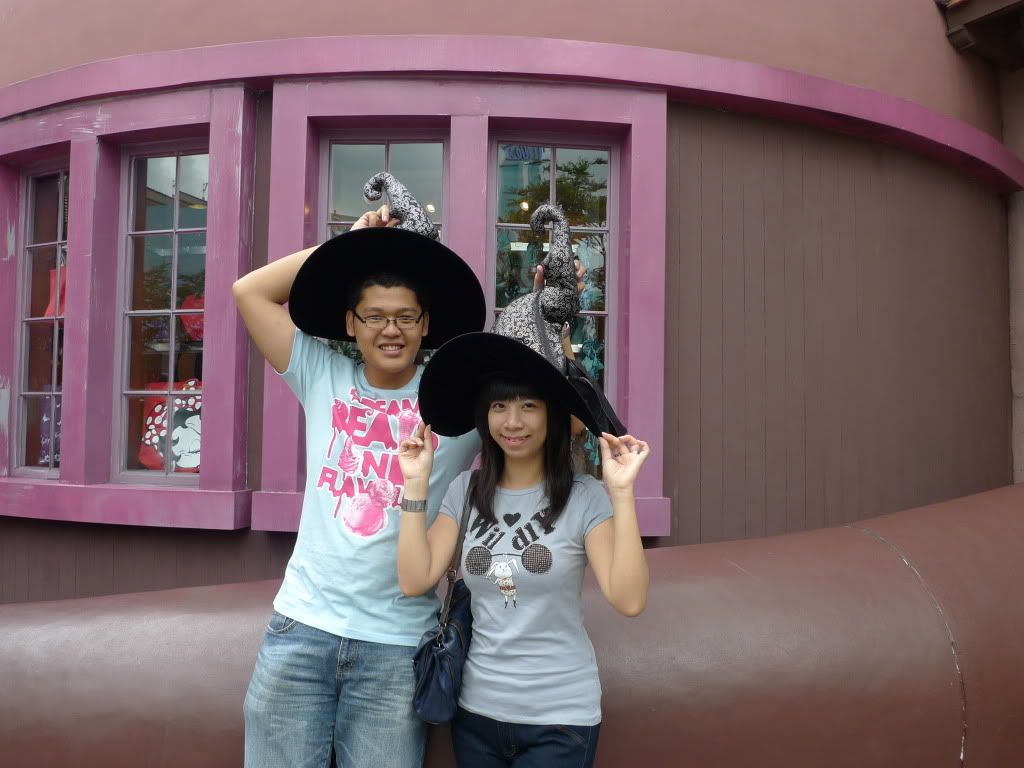 after that, pictures with the famous characters!! one thing that was quiet annoying is that every time we were at the queue, the staffs will shout last shot!!! and then walk away without let us took the pics!! dyamn!! We missed Gloria and Alex from Madagascar, Frankenstein, 2 more penguins from Madagascar, and don't know who else!! Had to runnnnn to the queue before the "LAST SHOT!!" which resulted in messy hair!!!!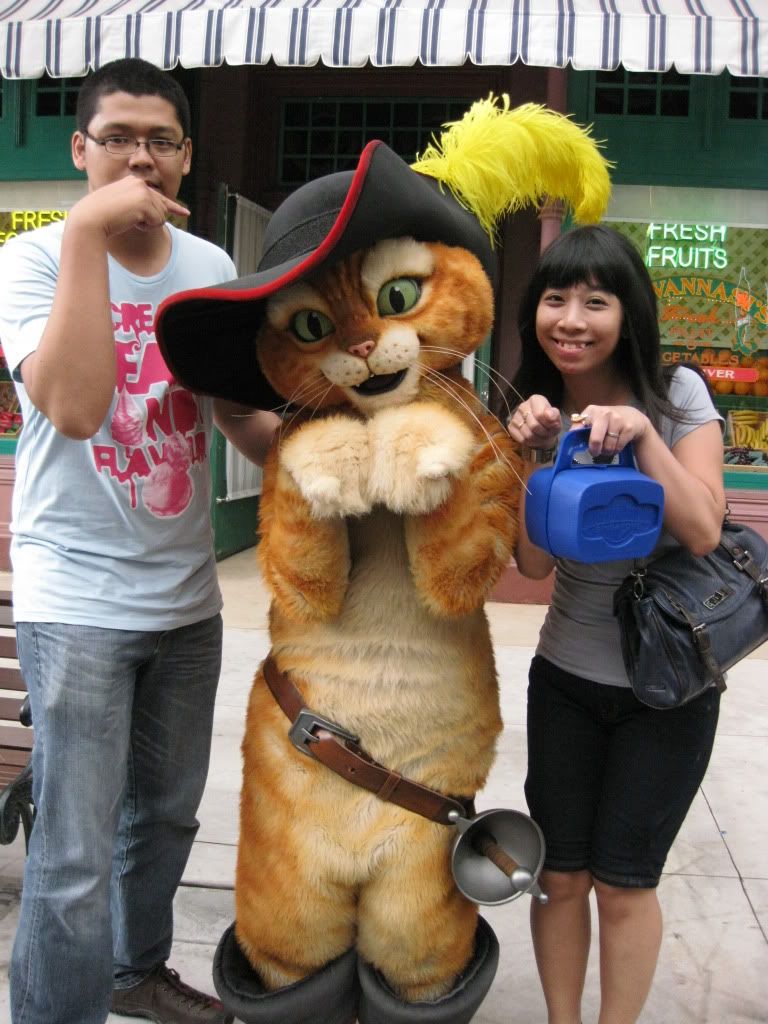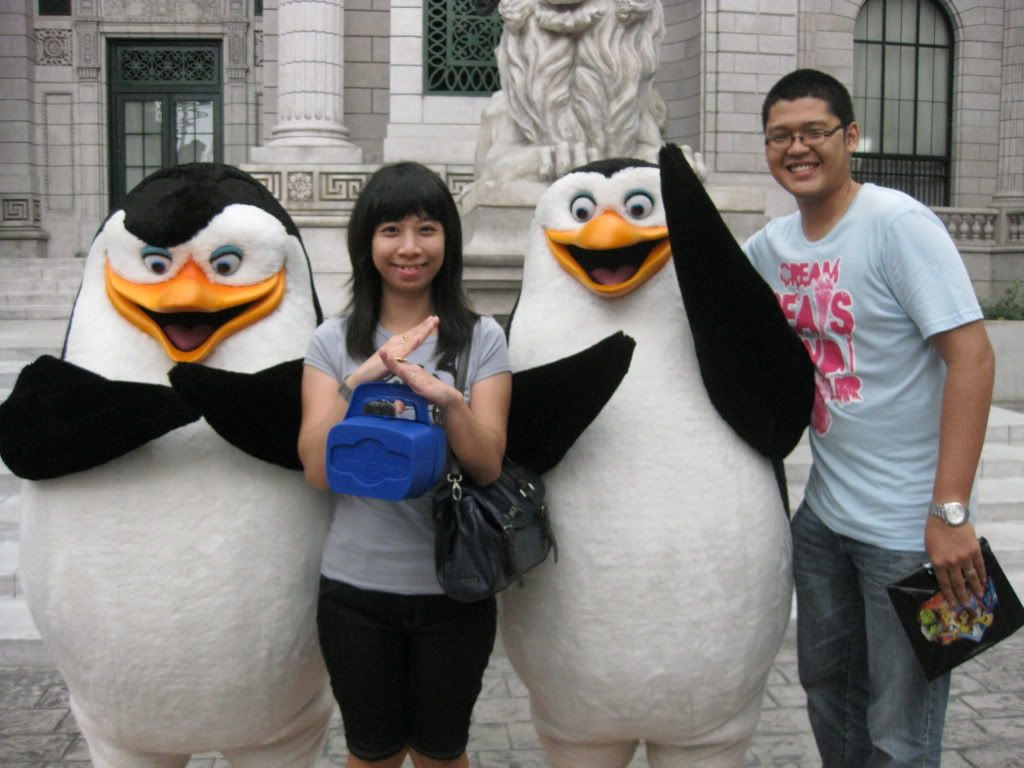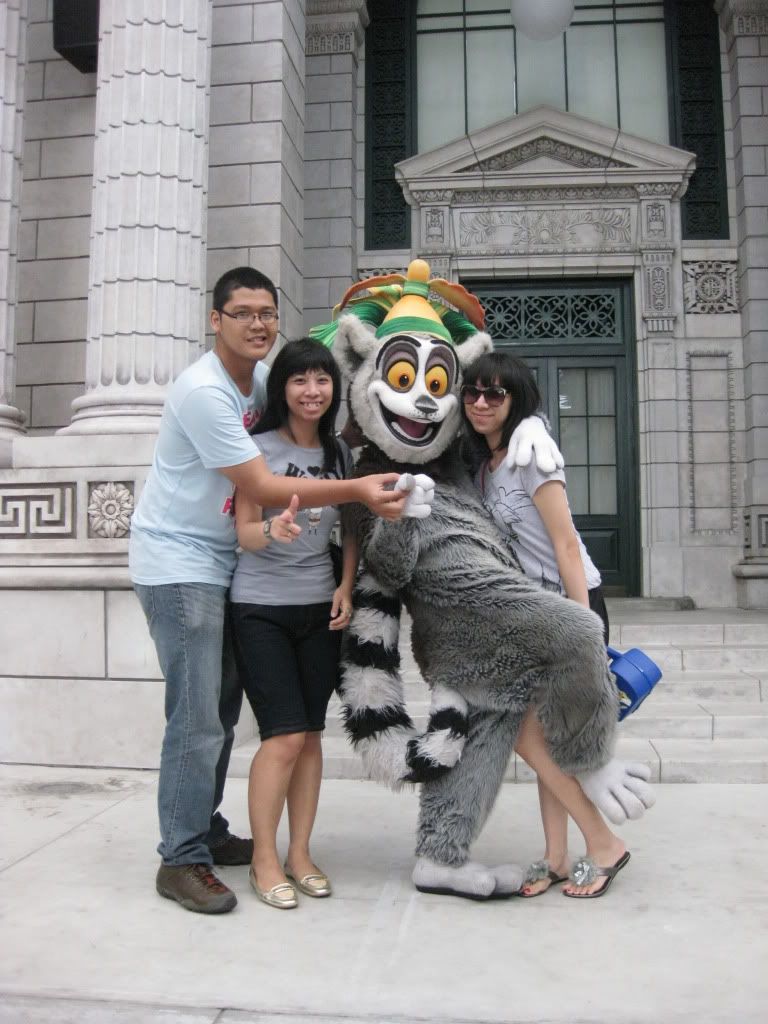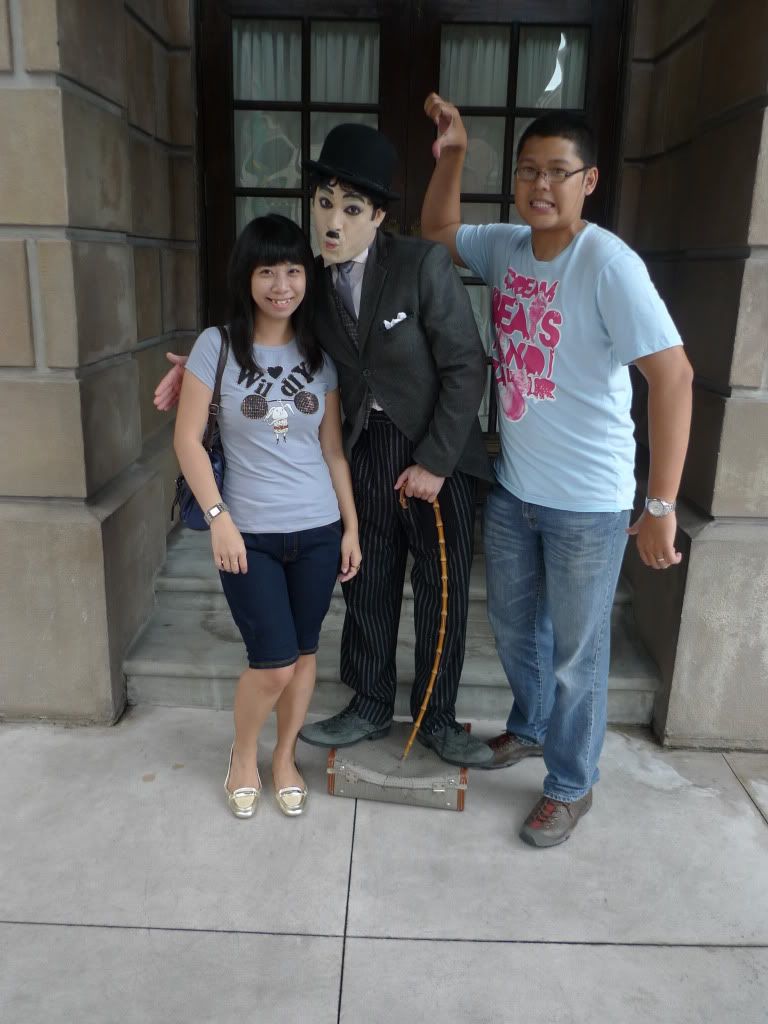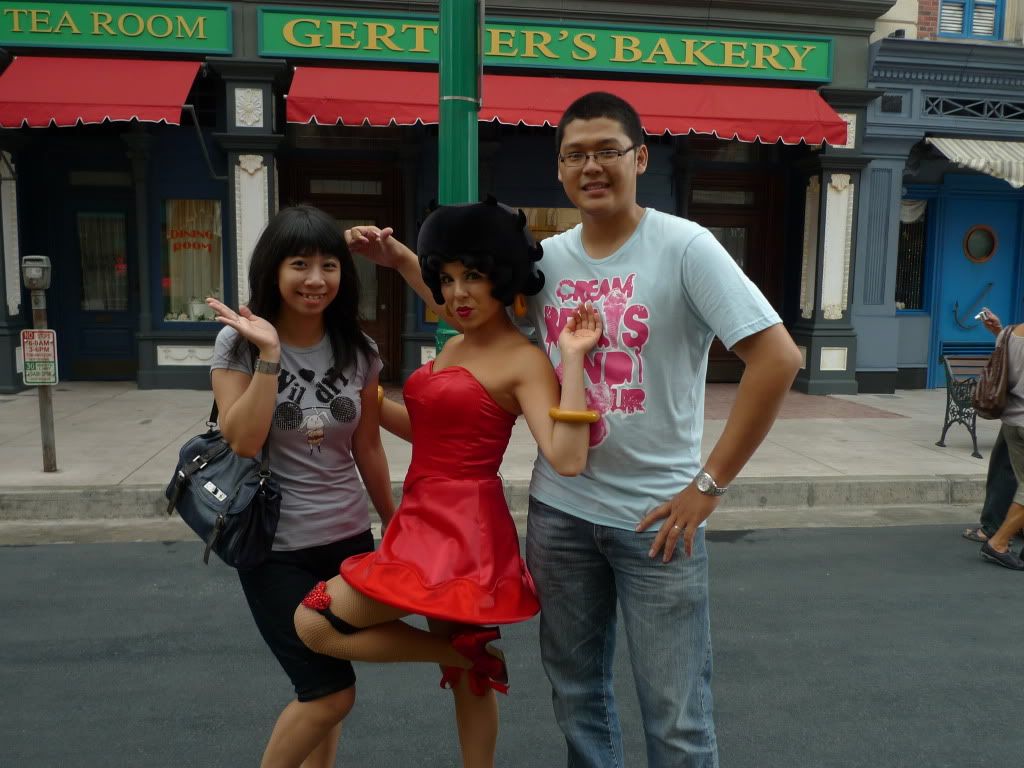 Betty boop is cute and super flirty and all but that she was flirting with CJ and leaned on him la!!! grrrrrr..
This Kung Fu Panda is big, hard, and ignored me!! Check out my panic face!!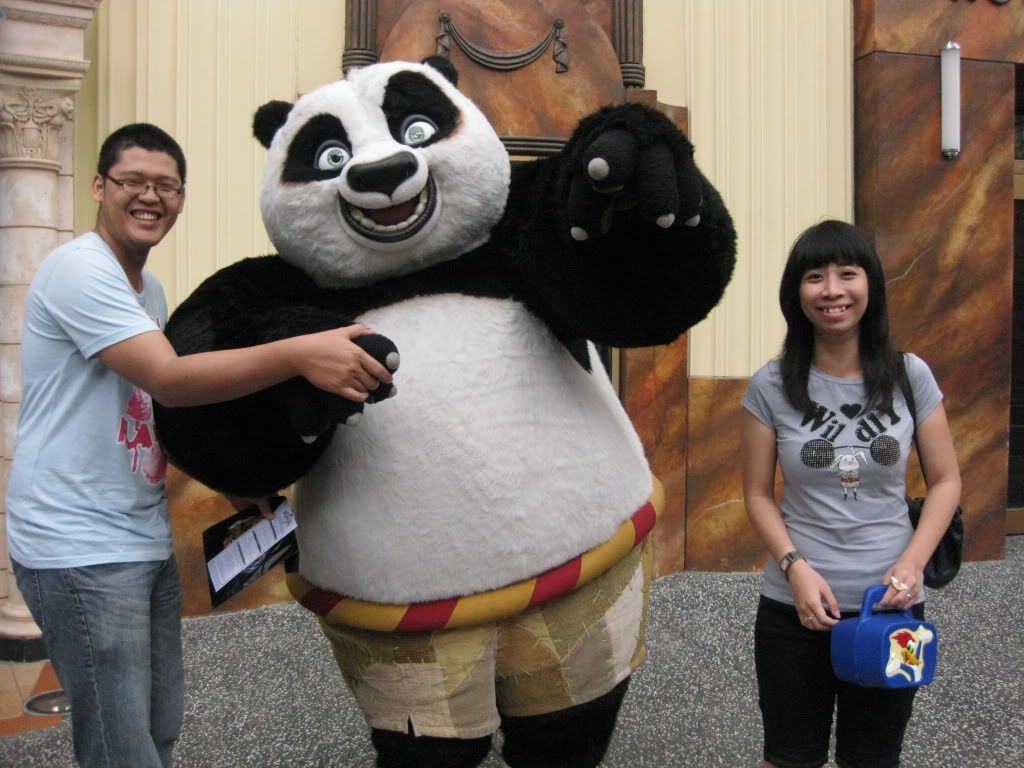 finally it agreed to took picture with me..=`(((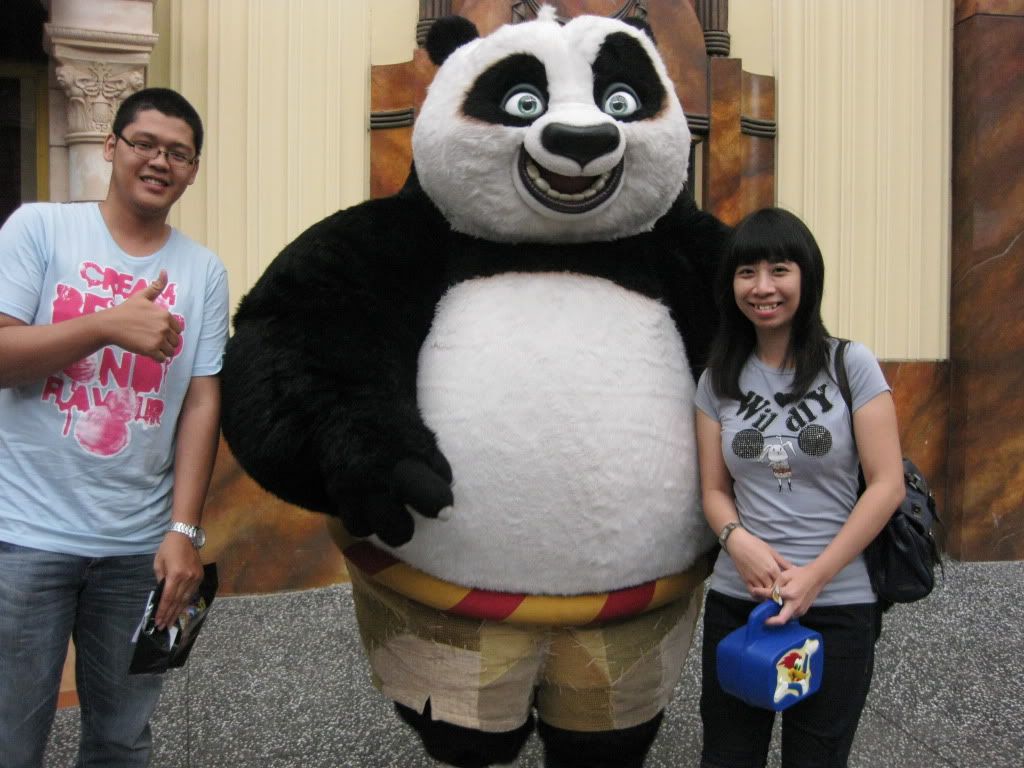 Super loved the Ancient Egypt part of the studio for I've always wanted to visit the mysterious yet glamorous Egypt but....money not enough la!!!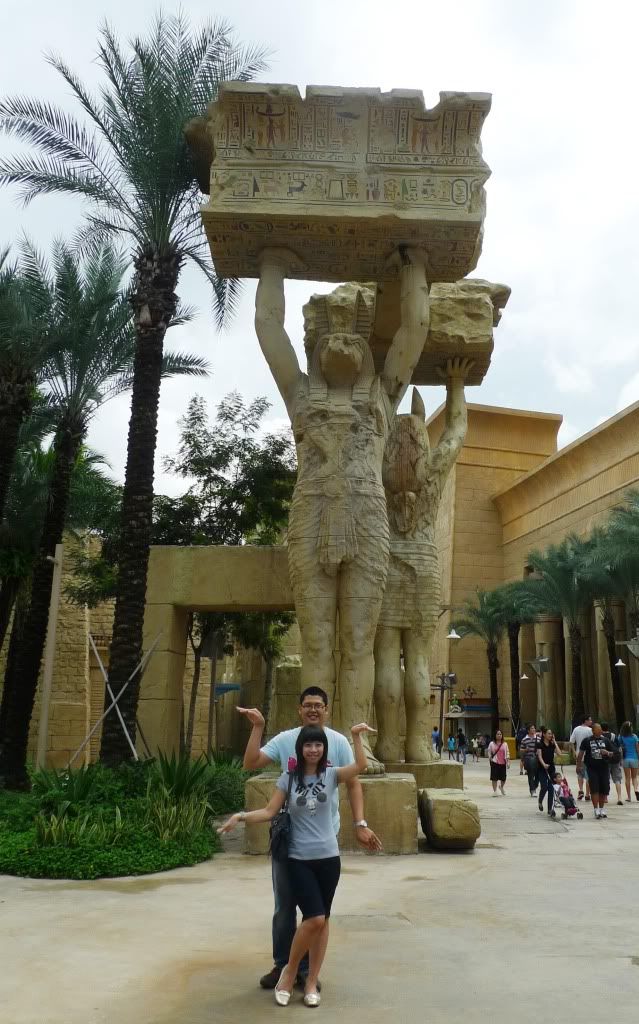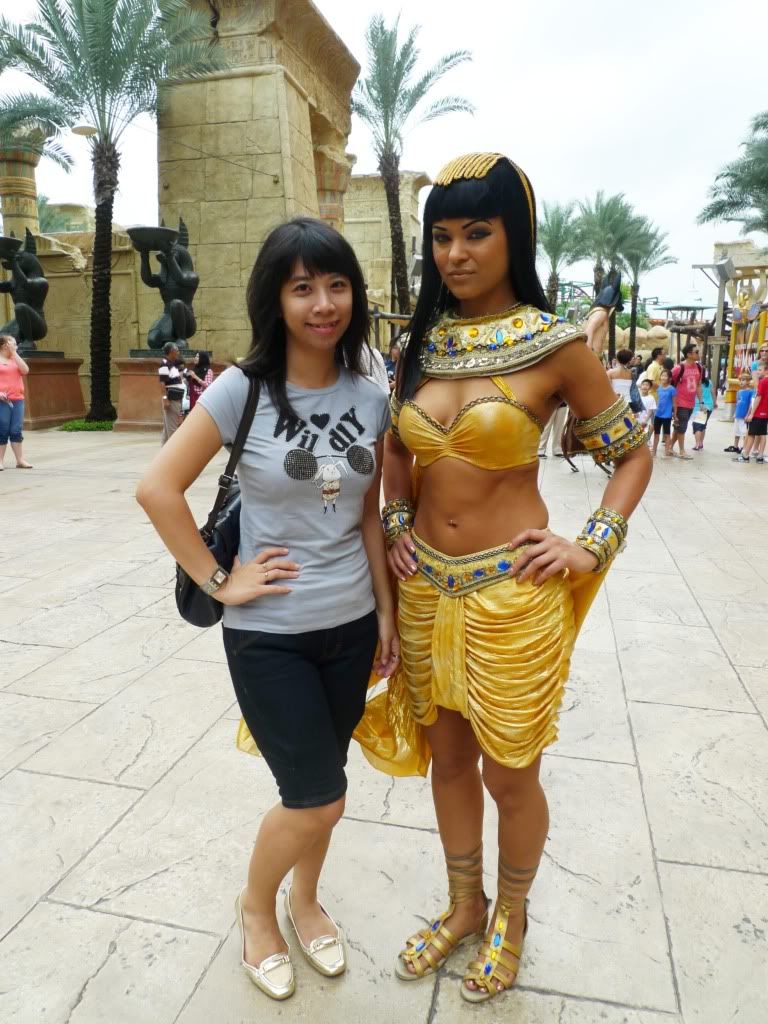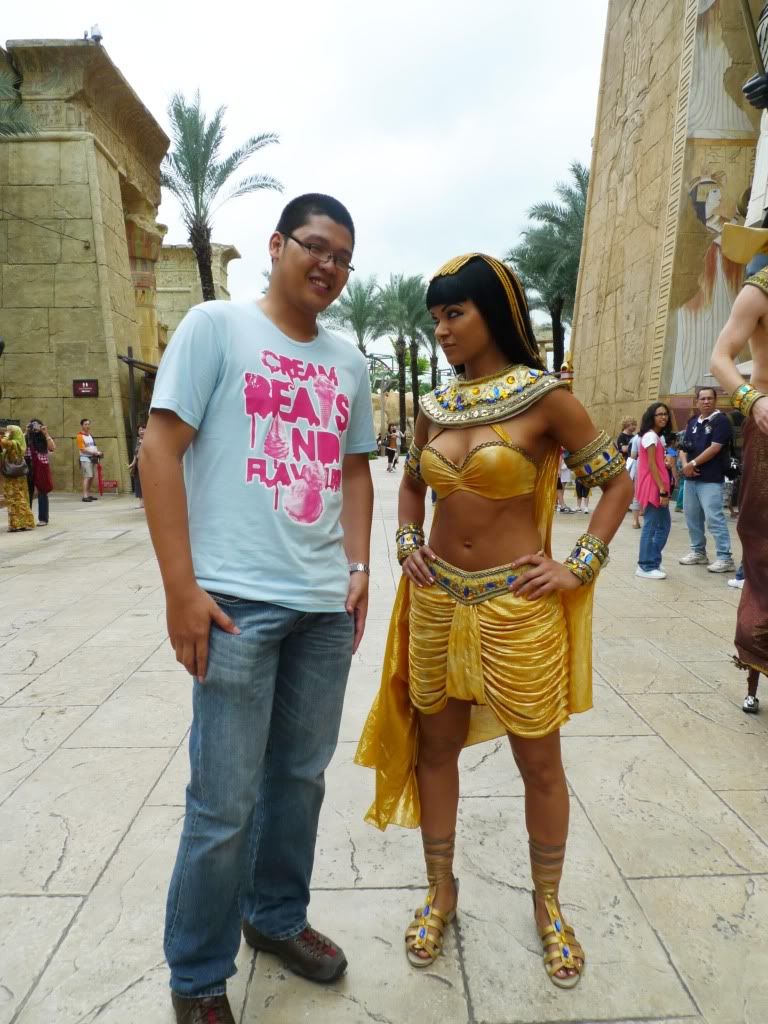 We tried the Mummy Ride which everyone said "MUST TRY" and I was too auntie for it la!! Cannot stand it until the pics turned out so hideous that we all laughed at my expression, but CJ just had to go for second round, coz Galactica hasn't operated yet and he can't get enough roller coaster so off he went and we ditched him and took picture with two Egyptian guards..teehee..=p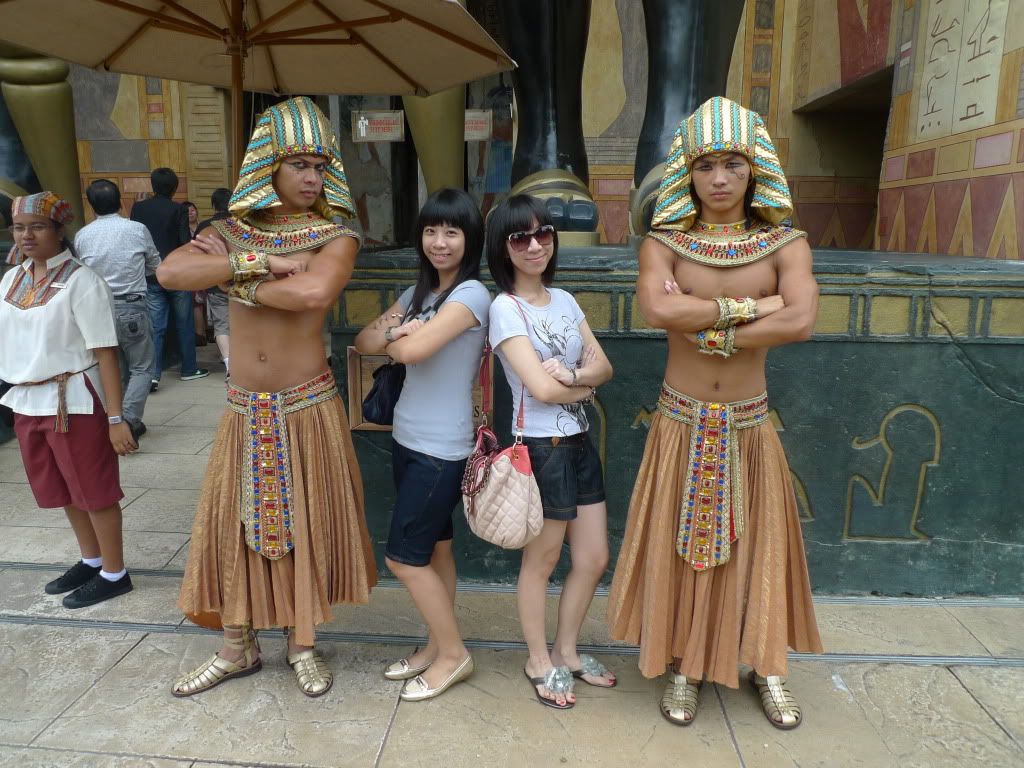 From Egypt we continued to The Lost World...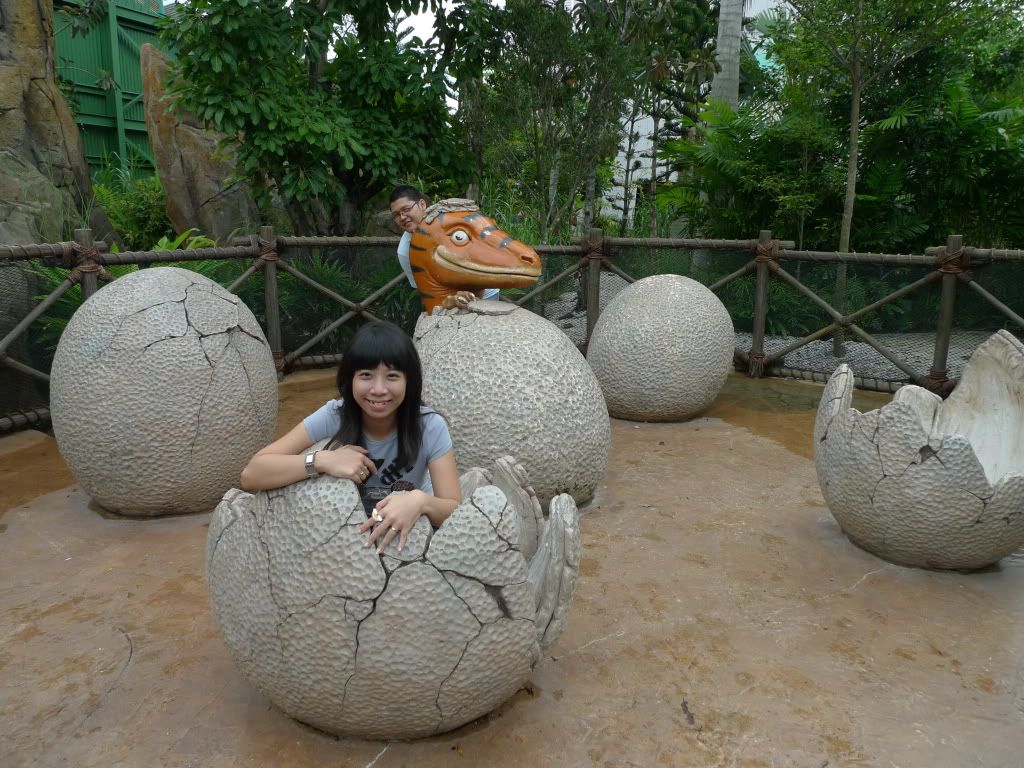 and we stopped by Fossil Fuels to fill our stomach..
Check out the cute dino nuggets!!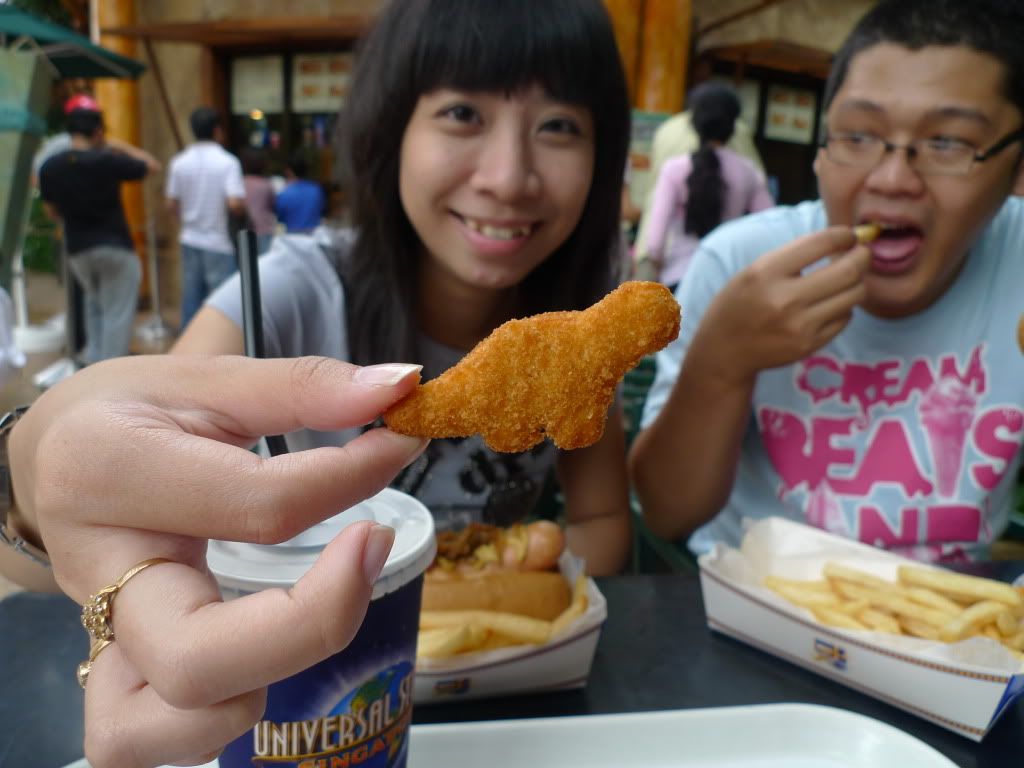 Continued to Far Far Away!!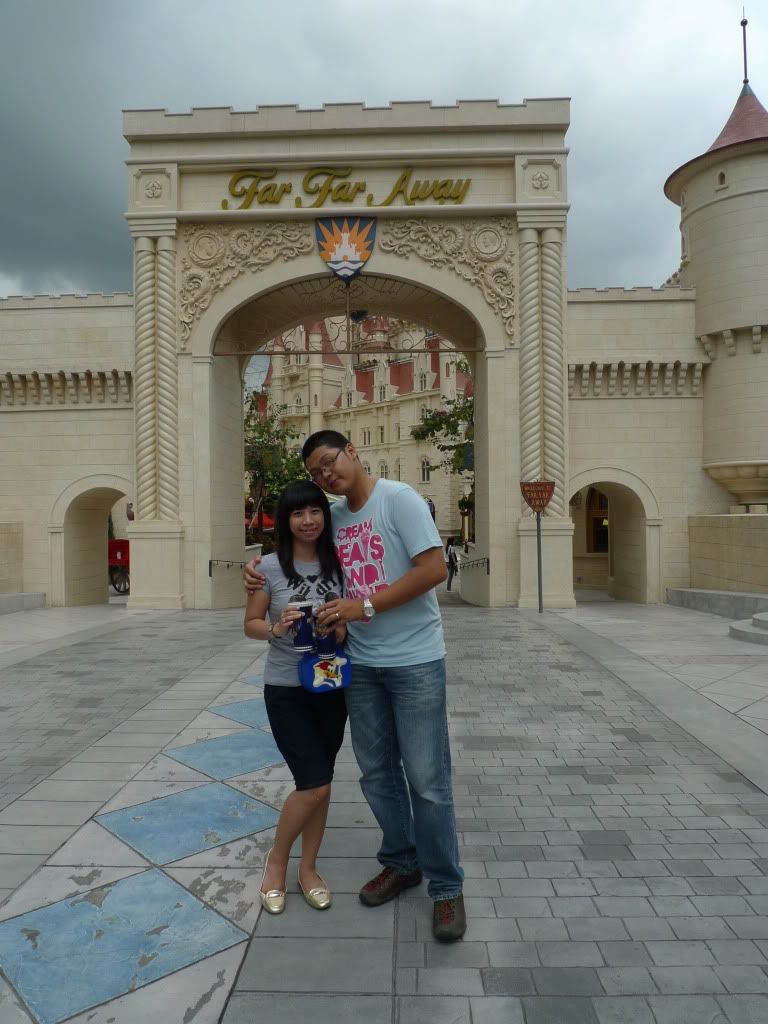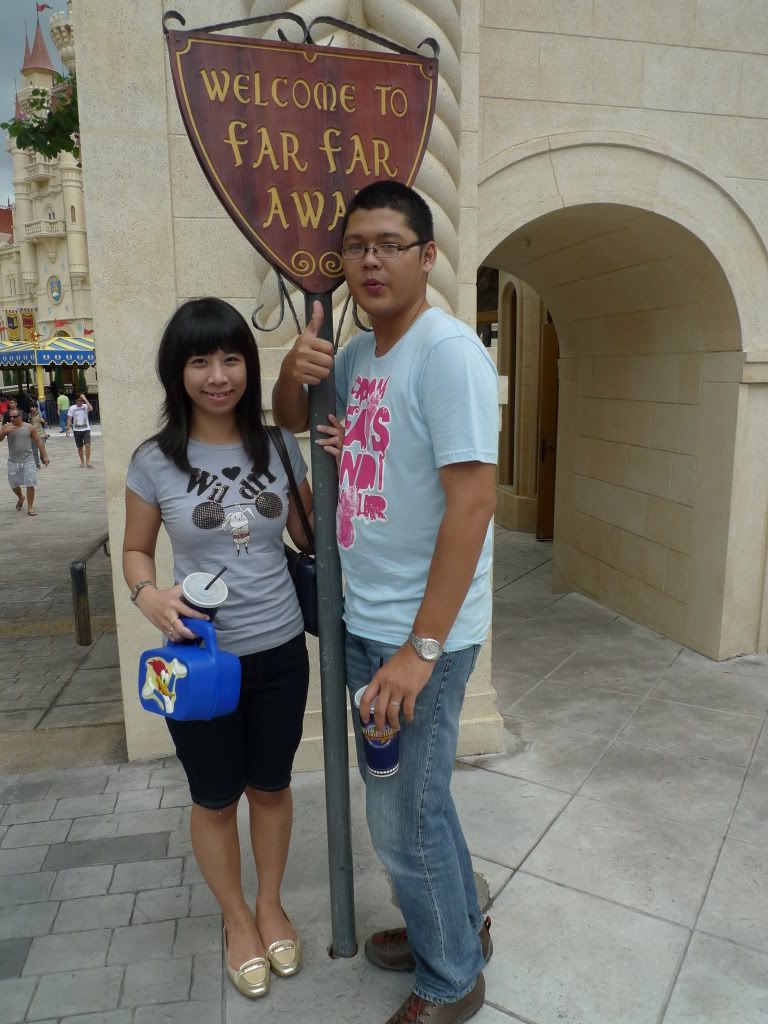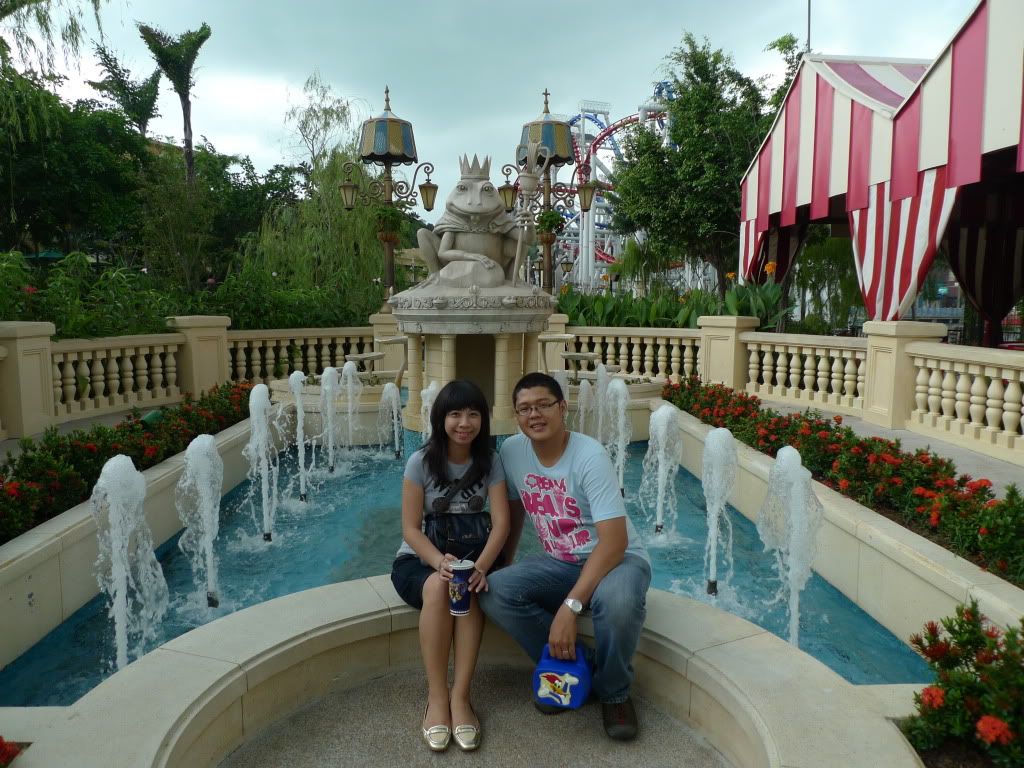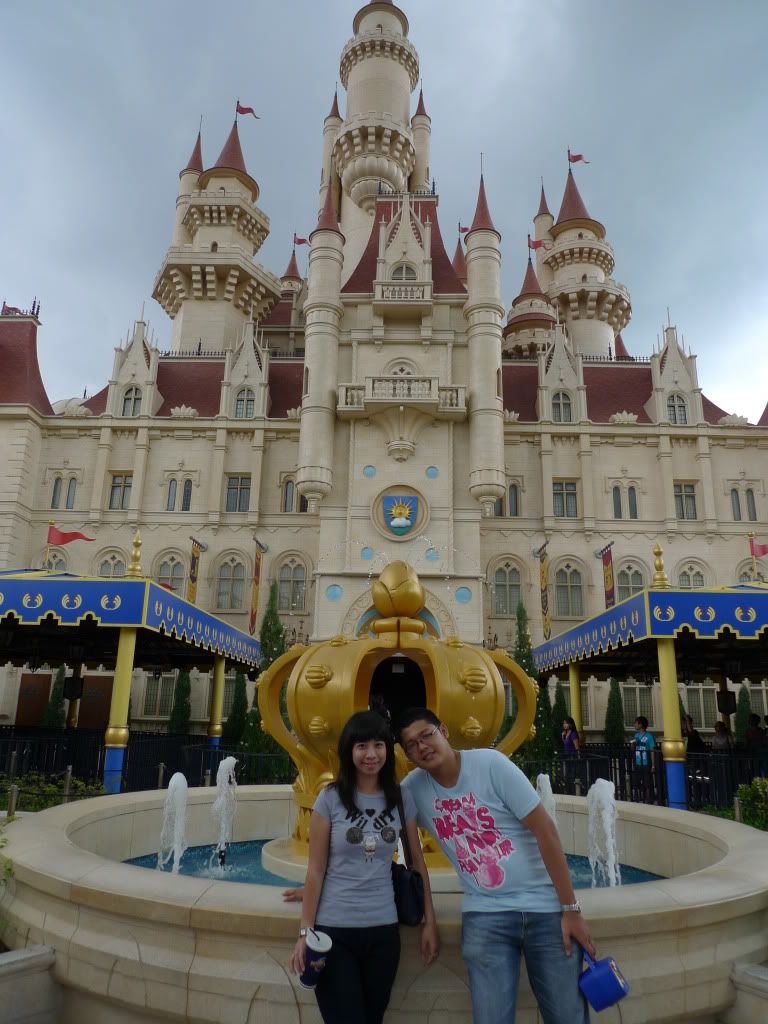 The sky went dark so we went inside the castle which is the Shrek 4D Adventure and saw this cute poster..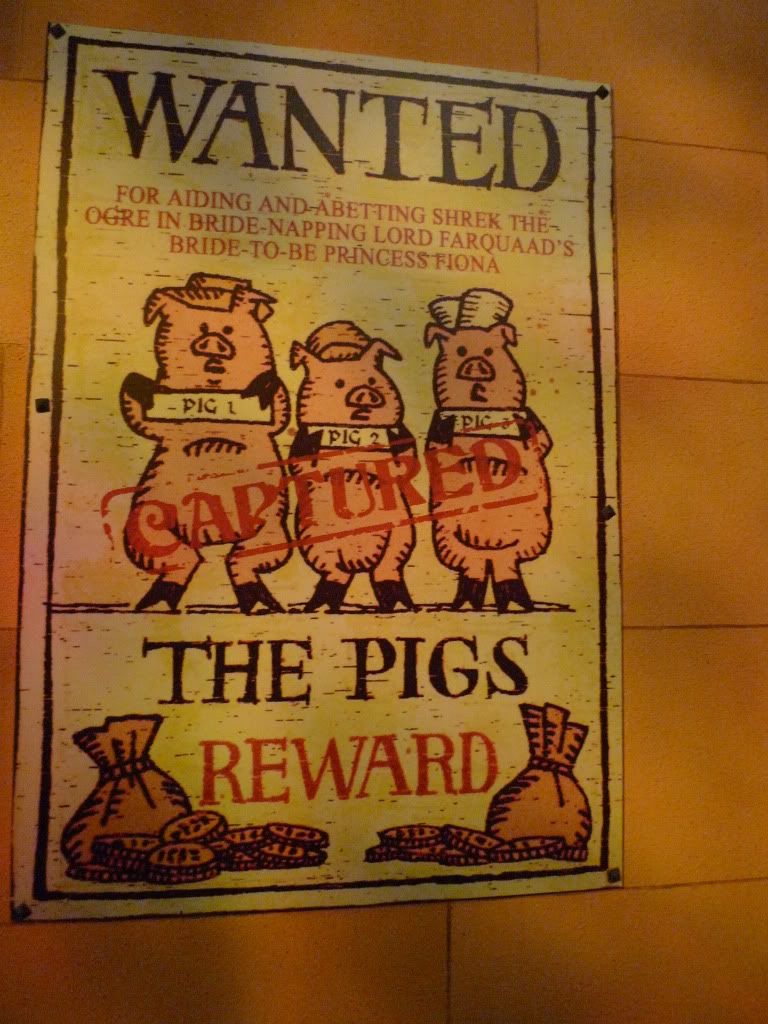 The 4D adventure was fun and cute!!
From Far Far Away we proceed to Madagascar!!!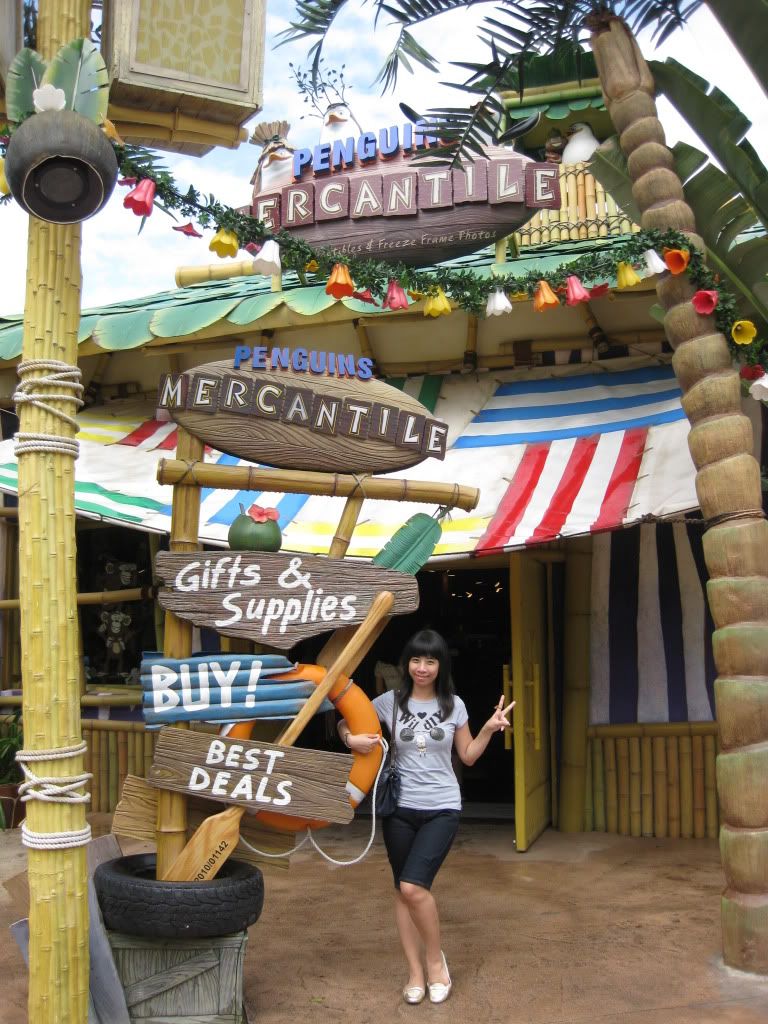 We rode on King Julien's Beach Party-Go-Round..Silly as it may seem but it was so much fun!! We laughed the whole way and felt so much younger again!! =p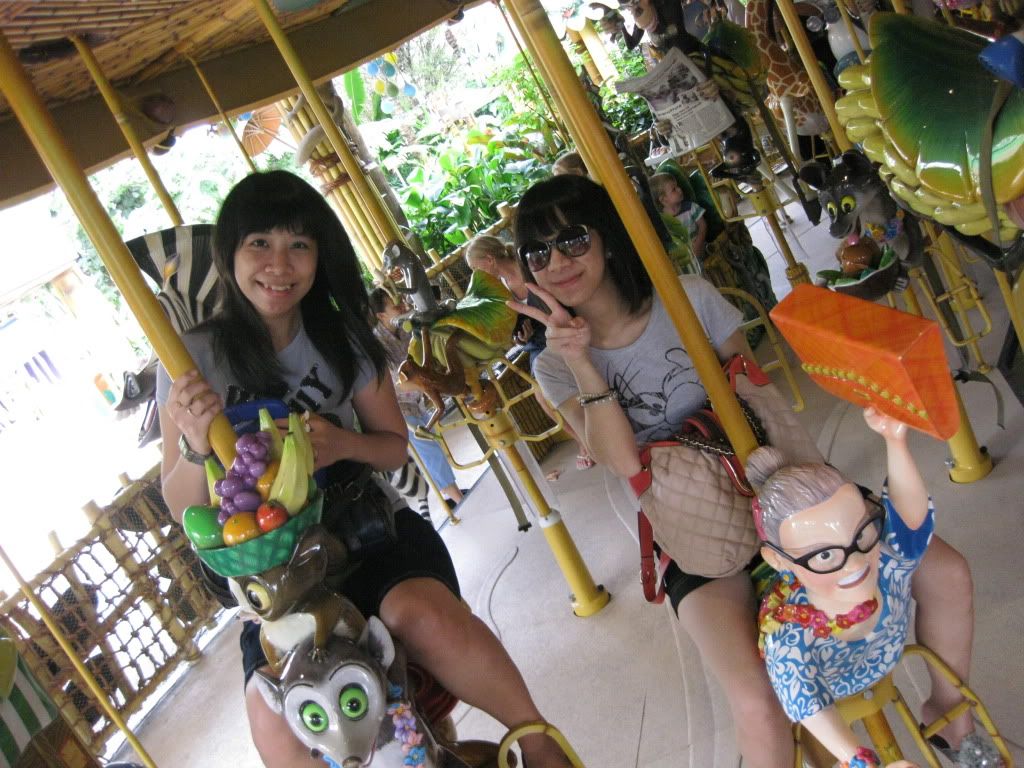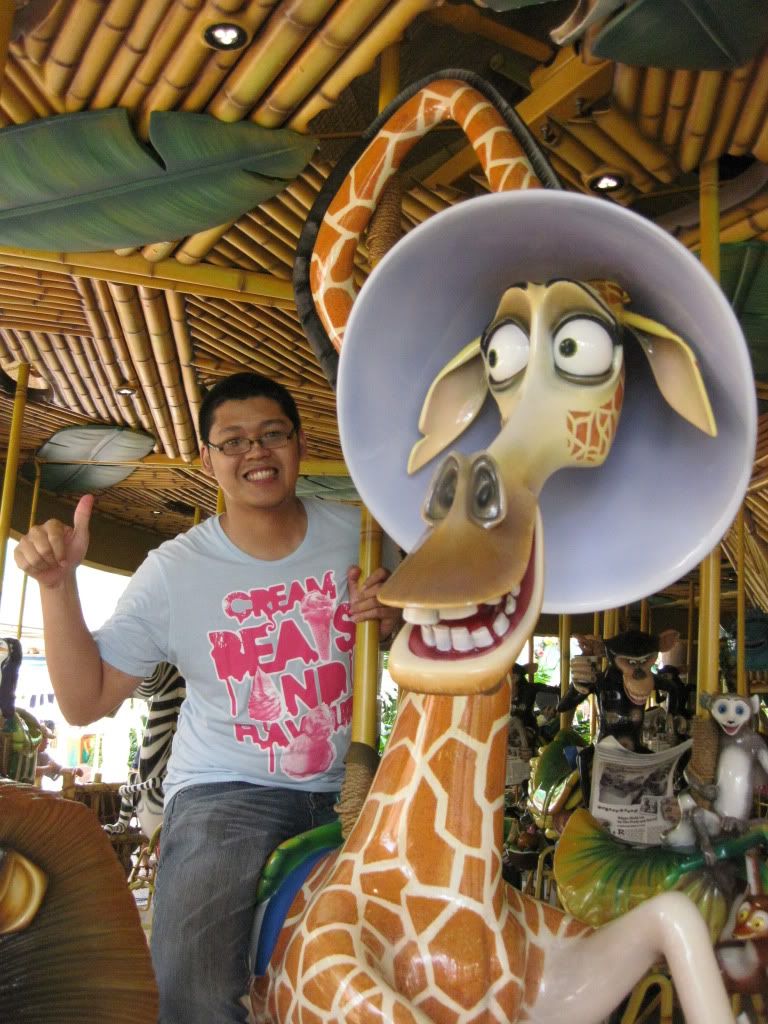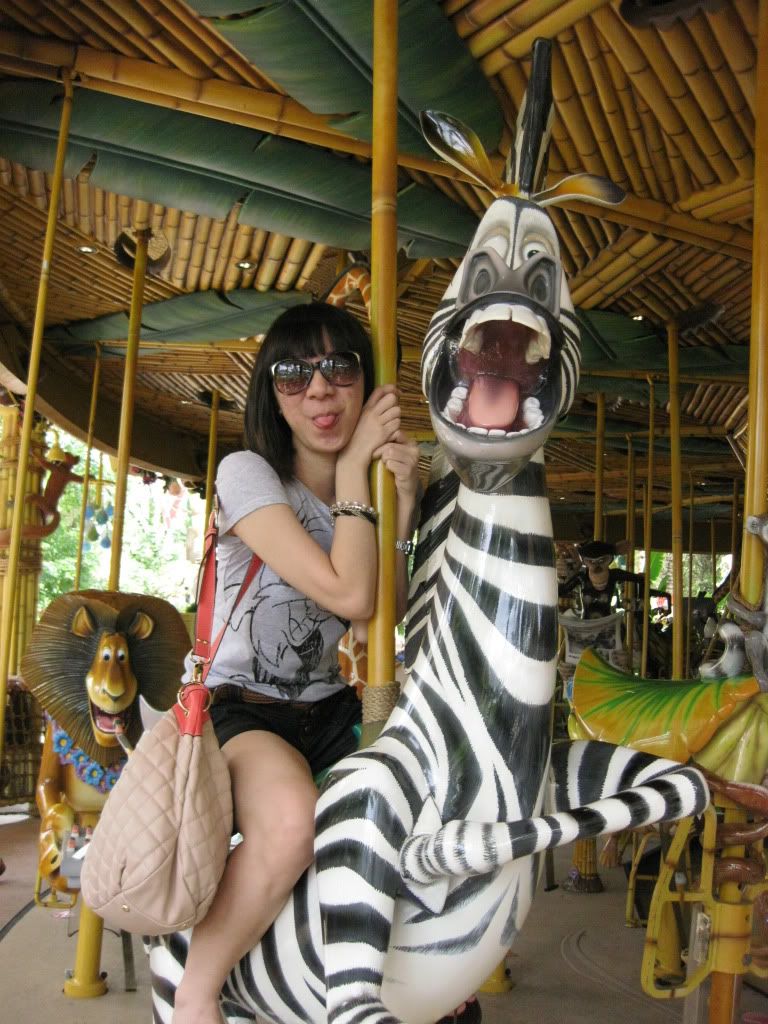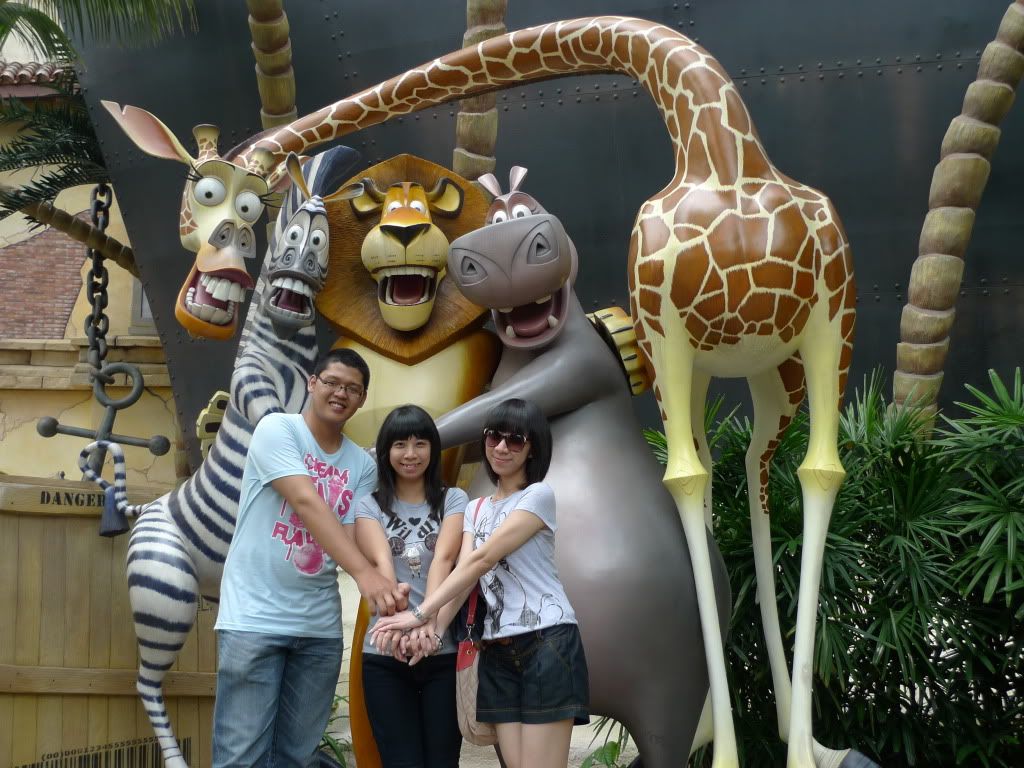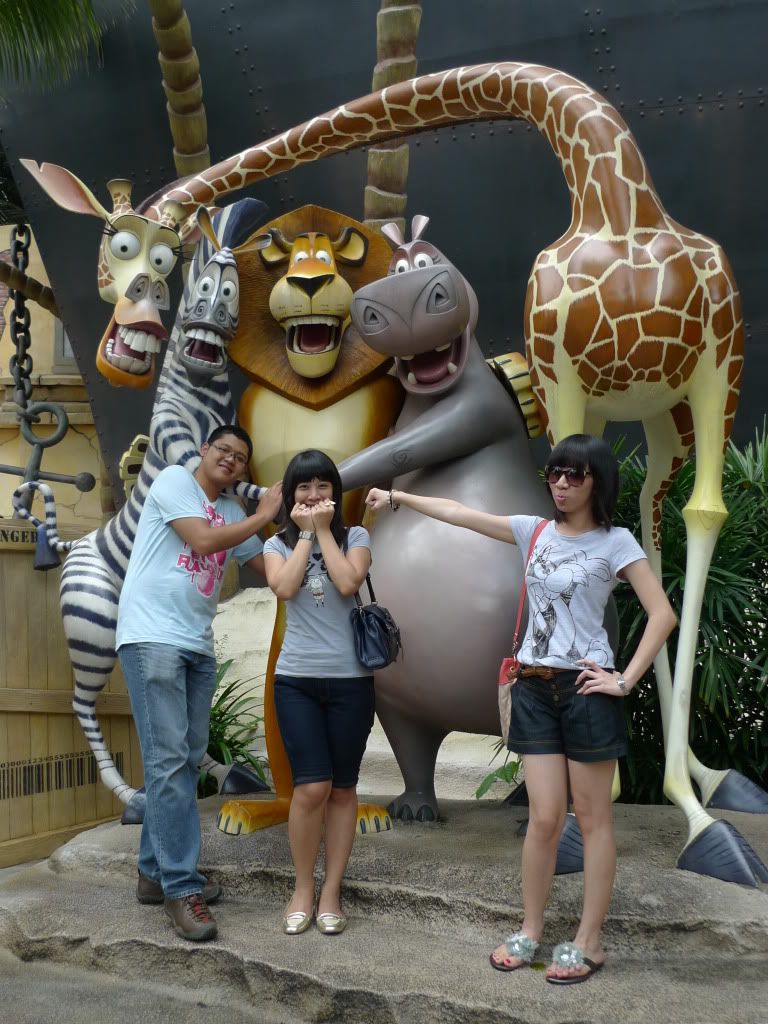 I love that every corner of Universal Studio in Singapore can actually become a very good spot for photo shoot!!